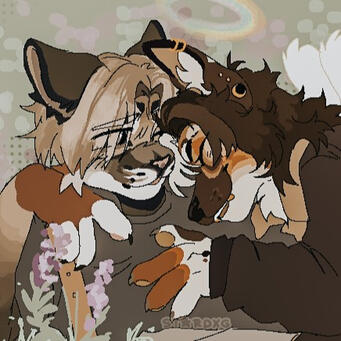 ᰋ 𝐈𝐍𝐓𝐑𝐎𝐃𝐔𝐂𝐓𝐈𝐎𝐍 ᰋ
a little bit about myself !
likes : nature, hiking, romance, movies, art, anime, cultures, italian food, desserts, traveling, lattes & teas, reading, my friends + a lot more . . .extra : from the north east of the united states. i'd like to say that my artwork often reflects or is based off of northeastern environments with a hint of vintage + retro aesthetics . . .
BYF : i mainly retweet or repost stuff about my fave things + cool art + relatable content. never anything about triggers & whatnot ofc, but drawn blood + slight gore may be present. i'm 18+ so keep in mind that there may be suggestive content that i like & / or retweet. i absolutely want to be kept out of drama & discourse as i have social anxiety & just don't want to deal with that kind of stress in general. you can use tone tags for me, but not required. i'm autistic so please be patient when explaining things to me as i may be slow to understand things. simply respect me & i'll respect you too ♡DFI + DNI : anti kinnie / comfort characters • pro map / contact, zoo, nazi, pedo + other degenerate ideaologies • if you take kinning too seriously & harass others for portraying / interpretating characters in their own way • pro-shippers • horror / slasher accounts • political accounts • gore accounts + ableism • NFT accounts • art theives + more
READ MY TERMS OF SERVICE BEFORE COMMISSIONING ME!!
🌾 ICON & BUST 🌾
| | |
| --- | --- |
| flat colored | rendered |
| $40 | $60 |
🌧️ HALF-BODY 🌧️
ˡᵃˢᵗ ᵉˣᵃᵐᵖˡᵉ ᶦˢ ᵃᶜᵗᵘᵃˡˡʸ ᶠˡᵃᵗ ᶜᵒˡᵒʳᵉᵈ
| | |
| --- | --- |
| flat colored | rendered |
| $55 | $75 |
🌱 CHIBIS 🌱
| | |
| --- | --- |
| flat colored | rendered |
| $35 | $50 |
🍊 FULL-BODY 🍊
| | |
| --- | --- |
| flat colored | rendered |
| $80 | $100 |
NOTICE
✿ choice of background for any commission = +$25✿ extra character for any option = +$30 each✿ any donations to my ko-fi above $10 = 10% off any commission option✿ a pixel art version of any of the options you choose will not altar the set price in any way ( aka will not cost you extra or less ) !ᰋ ᰋ ᰋ
🌷 REDRAWS & SCENES 🌷
| | |
| --- | --- |
| screenshot & meme redraws | painted scene |
| starts at $30 | starting at $130 |
✿ i can redraw any scene from any movie, show, painting, etc. to include your oc, fursona, or canon character ( s ) ! it cannot be too graphic or triggering, however. just ask for what i can include as it depends on the scene! ✿
🌈 REFERENCE SHEETS & CUSTOMS 🌈
✿ $45 on a premade base ( either you will send the base to me or you can choose from a variety i have ) for any theme or design of your choice. the more specific the better, or you can just give me a specific color palette or moodboard to work off of as artistic liberty. $50 for me to design the species of your choice completely from scratch ( 6th image ).✿ simple reference sheets start at $120 ( 4th image above ) which includes a symmetrical front & back view. a limited amount of props will be used if requested. extra poses, close-ups, & views will cost extra.✿ complex reference sheets start at $150, which allows you to choose multiple poses, props, clothing options, extra information, & more ( 5th image ).
---
✿ LAST UPDATE: 5/24/23 ✿
upon commissioning or purchasing an item from my art business, republic_art, & / or my fursuit making business, embroidery farms creations, you are agreeing to the terms of service stated below ( view the google doc version here :
✿ GENERAL ✿1.) by estimate, digital commissions are subject to take longer to complete - at least up to two weeks or more once payment has been sent - but depending on the queue list & class scheduling, this will vary.2.) generally ( this is subject to change ), i will open 5 slots at a time, & slots will reopen once i am ready to take more commissions & have completely finished the previous batch.3.) if you have any questions or concerns, the best way to contact me is through instagram dms, but you can contact me through any of my other social media accounts too if it's more convenient for you. but please, DO NOT spam me about the same topic on multiple accounts ( or just spam in general ).4.) i ONLY take USD currency ( if you live outside the u.s, paypal should automatically convert your county's currency into usd ) as payment through either paypal or venmo. I DO NOT take crypto currency ( bitcoin, dogecoin, etc ) of any kind as payment. if you do pay me using this currency, i will not accept it & blacklist & block you.5.) my commission status ( CLOSED, OPEN, PENDING, TBD ) is always presented in my bios on every social media account of mine. if they are closed, you can dm for a free quote but i cannot guarantee i can hold a spot for you when they reopen.6.) you must be 16 years old or older when commissioning me.7.) all clients must have a reference sheet of your character before commissioning me. this is so that i can draw your character with 100% accuracy in my own style. if you do not have a reference sheet, i can gladly make one for you!✿ PAYMENT ✿1.) before i begin your commission, full payment must be sent upfront. however, if preferred, payment may be sent after receiving a sketch of the commission.2.) when i open YCH's ( your character here ) & adopts, they may have a different payment plan. but if you have not sent me the payment within one ( 1 ) week, i will drop your payment / gift to the winner of the adopt or ych ( auction ) to someone else. you will be blacklisted & blocked as a result.3.) while i do accept rushed deadlines / commissions, i will charge you an additional fee ( $5-20 depending on the length of time ).✿ PROCESS ✿1.) i will always send pictures of the process of the commission for approval before continuing on, but you can always decline this request. this way i can make any edits needed / requested by the client. but i can only make so many changes to your piece ( please keep this in mind, especially with traditional art commissions ).2.) i also have the right to share work in progress photos & completed commissions on my stories / feed unless asked otherwise ( like if your commission is a surprise for another person, i will not share your art piece publicly ).✿ ARTWORK ✿1.) once i have published your finished commission, you are free to share the completed artwork WITH CREDIT, use artwork as a profile picture ( also with credit ), & print out the digital artwork with watermark / signature / credit.2.) meanwhile, you CANNOT : reproduce or use copyrighted artwork commercially ( unless commissioned artwork was specifically made for said purpose ), take credit for the artwork, remove / crop out any watermarks, signatures, or credit. USING MY ARTWORK TO CREATE NFTS ARE STRICTLY PROHIBITED. IF FOUND, YOU WILL BE BLACKLISTED, REPORTED, AND BLOCKED!✿ OTHER TERMS ✿1.) as an artist within my own business, i have the right to decline / refuse service from any commission or individual under any circumstances without explanation. this also goes for having the right to refuse drawing or making anything that i am not comfortable producing & showing to the public.2.) if client has not responded / viewed my messages about the progress of the commission after one ( 1 ) week, i WILL NOT refund the payment, as i am still assuming that everything i have already drawn is to their liking.3.) if caught destroying any physical items i've made / sold ( for you ) in any way, you will immediately be blacklisted, reported, & blocked, as well as never having the opportunity to commission me for anything again. all physical art pieces are considered fragile & should be handled / treated with care4.) if physical items are lost or destroyed in shipping, the client will receive a 20% refund ( with proof of image of damaged product or tracking number first ). manipulation & dishonesty will result in a blacklist & block.✿ ONLY RELATING TO EMERGENCIES ✿if your artwork ( regardless of medium ; ex traditional or digital ) has not been started at all, you are eligible for a 100% refund. if it has been halfway completed, you are eligible for a 30% refund. if it's almost near completion, you may be eligible for a 15 - 20% refund. until it is fully completed, you will no longer be entitled for any sort of refund ( exceptions may apply, please dm for more details ).✿ WHAT I CAN DRAW ✿ALL SAFE FOR WORK ( SFW ) ONLY : sketches, full bodies, portraits, humans, other species, aliens, cryptids, original characters & ( fur ) sonas, feral characters, canon characters from ( almost ) any franchise, reference sheets / concept sketch pages, pokemon teams, general fanart. self - inserts, suggestive couple ship art, & general ship art i would love to draw, but only under very strict guidelinesPLEASE DM ME IF I HAVE NOT COVERED ANYTHING ELSE OR IF YOU WOULD LIKE TO ASK IF I CAN DRAW ANYTHING IN PARTICULAR THAT I LEFT OUT ABOVE✿ WHAT I CAN'T DRAW ✿mecha, extremely graphic gore & blood ( although minor indications of it is fine ) including necrophilia, any horror genre - based art ( ex ; mutilation & body horror ), animatronics, drugs & related content of being under the influence ( smoking & drinking are allowed, though ), yiff / heavy nsfw, pornography, loli & " cub " art, sexual harassment / non consensual scenarios, satanic / demonic themes, etc.✿ PRICES ✿all set prices shown below will increase based in complexity. will be updated & may vary from time to time, all in USD ONLY.